2017.03.18 Saturday
やっぱり、紙!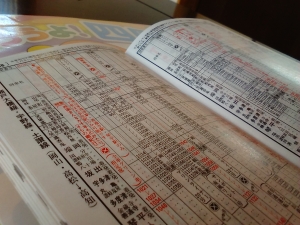 時刻表は、やっぱり、紙です。
今年も例年どおり、3月に入って、JR四国のダイヤ改正後の時刻表を買ってきました。
この時刻表は、お客さんから質問があればさっと取り出せるよう、居間の本棚にスタンバっております。
I like a paper timetable.
I bought the latest paper timetable this March also as usual.
It is always ready for travelers at wakabaya's living room.
なぜ、紙の時刻表なのか。
もちろん、乗換案内などのウェブツールを使うこともありますが、でも、やっぱり、紙の時刻表が必要なのです。
乗り換えが複雑な大都市圏であれば、ウェブツールの方が便利です。
でも、四国の場合は乗り換えが複雑という問題はありません。
四国で問題になるのは、運行頻度が格段に少ない、ということ。
Why paper?
Although I use a web app for train information also, I need the paper one after all.
In metropolises like Tokyo and Osaka where train network is complicated, web app is more convenient.
But, train network in Shikoku here is never complicated.
The problem here is infrequency of train.
「この一本後の列車になると、次は1時間30分後になるのか」
「もし普通列車で行くと、この駅で45分待ちの乗り換えになるのか」
こういった列車の頻度や流れは、紙の時刻表の方が、はるかに見やすいのです。
"If I take next train, I must wait it for an hour and half."
"If I take a local train not express one, I must transfer it at that station and wait 45 minutes."
It is definitely easier to recognize such frequency and flow of trains with a paper timetable.
昨夜も、紙の時刻表が仕事をしました。
The paper timetable worked well last night too in our living room.