2017.04.22 Saturday
8/21から育休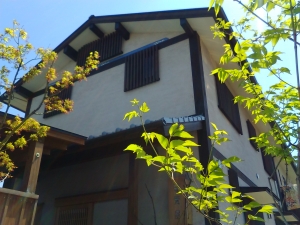 サザンカとクマザサを除いて、しばらく枯れ枝の月日が続いていた若葉屋に、若葉の季節がやってきました。
毎年ながら、カサカサになった枯れ枝を見ていると、「本当に春に若葉が出るのだろうか」と心配になるのですが、こうやって、ちゃんと、若葉が出てきてくれます。
よかった、よかった。
The season of fresh leaves has come.
(The meaning of Chinese character "若葉屋wakabaya" is "fresh leaves house".)
While I see branches with no leave in every winter, I worry that the fresh leaves might not appear again.
Actually, they appeared again like this.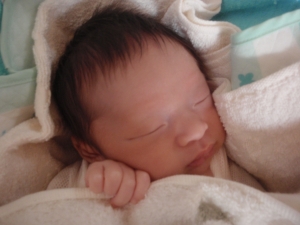 さて、2014年7月にゲストハウス若葉屋がオープンし、その3ヶ月後の2014年10月に、長男、幸太郎が生まれました。
若葉屋も幸太郎も3歳になる今年、第二子が生まれる予定です!
それにあわせて、ゲストハウス若葉屋、長期休業いたします。
Guesthouse wakabaya opened July 2014 and three months later of that, our little son Kotaro was born October 2014.
Now, this year, when wakabaya and Kotaro gets three years old together, we'll welcome a new childbirth!
That's why we decided to close our guesthouse from 21st August 2017 for a few months.
期間
2017年8月21日(月)より数ヶ月間
再オープンの時機は、育児、家事の具合を見ながら検討します。
PERIOD
From 21st August 2017 for a few months
We consider re-opening day depending on our family condition.
理由
第二子誕生に伴う、育休
REASON
For a new childbirth and childcare
8月20日までは不定休がありながらも、通常営業です。
引き続き、みなさんのお越しをお待ちしております。
We're opened now as usual and look forward to your stay until 20th August.