2017.05.29 Monday
Sénégalais ñow na!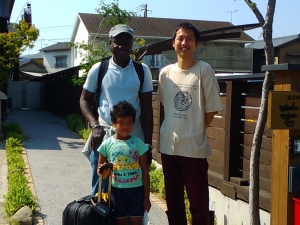 多くのみなさんがご存知のとおり、私と妻は、青年海外協力隊として2010年から2012年まで、西アフリカはセネガル共和国で暮らしていました。
帰国後、2014年にゲストハウス若葉屋をオープンして、今年で3年。
ついに、若葉屋にセネガル人のお客さんが宿泊されました!
セネガル人のご主人と、日本人の奥様と、5歳の娘さん。
As many of you know, I and my wife lived in Senegal in west Africa for two years from 2010 as Japan Overseas Cooperation Volunteers.
(my life there in January 2011)
After retuning back home, I opened guesthouse in 2014 and three yeas have passed since that.
A Senegalese guest stayed at wakabaya at last!
Senegalese husband, Japanese wife and their five-years daughter stayed here for three nights.
ご主人は日本滞在がもう10年以上と長く、日本語もぺらぺら。
若葉屋では、ウォロフ語、日本語、フランス語が混在しながらの会話でした。
He has lived in Japan for longer than 10 years, so now he speaks Japanese well.
We communicated in Wolof (Senegalese main local language), Japanese and French.
場所は若葉屋の居間なのに、セネガルの方とウォロフ語で会話をしていると、penc(木陰)でataya(濃く煮出したお茶に、信じられないほど大量の砂糖を入れたもの)を囲んでwaxtaan(おしゃべり)していた日常を思い出し、懐かしく思いました。
Though we talked in wakabaya's living room, a chat in Wolof reminded me my daily "waxtaan" (talk) with "ataya" (strong tea with heavy sugar) at "penc" (under shade of a tree).
あのセネガルでの日々がなければ、「地元高松に帰って、ゲストハウスをやってみよう」という発想はありませんでした。
Jëregeen jëf sénégalais. (ありがとう、セネガルのみんな)
Without those days in Senegal, I would not have gotten an idea to open a guesthouse at my hometown.
Jëregeen jëf sénégalais. (Thank you all Senegalese.)