2017.07.06 Thursday
FREE FERRY CAMPAIGN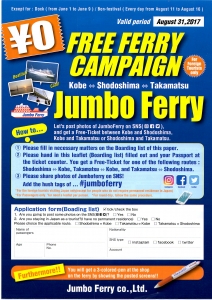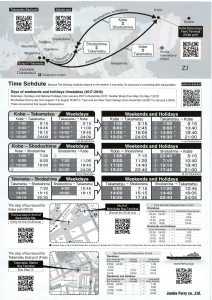 Jumbo Ferry co., Ltd launched a "surprising" campaign.
This ferry connects between Takamatsu 高松 and Kobe 神戸 via Shodoshima Island 小豆島.
Now, they offer "Free Ticket" only for foreign tourists until 31st August 2017!
The only required condition is to post photos of the ferry on SNS.
I called to the ferry company to confirm if they really allow me to share such a "too good" campaign to public.
They said, "Yes, please!"
You have various ways between Takamatsu 高松 and Kansai 関西 area including Kobe 神戸.
Shinkansen 新幹線 is the most fast one and the Japan Rail Pass can remove fear of its expensive fare, but with boring window view.
Without JR Pass, a Highway Bus can be a good alternative, but on a small seat.
How about the Jumbo Ferry?
It takes as long as 4.5 hours however, you'll enjoy beautiful peaceful sea view and are free to wander around in "Jumbo" ferry.
Moreover, it offers "Free Ticket"!
Why don't you choose Jumbo Ferry?
The necessary boarding list for the camaign is at guesthouse wakabaya.
* Sorry, this campaign is only for "foreign" tourists, not for Japanese.